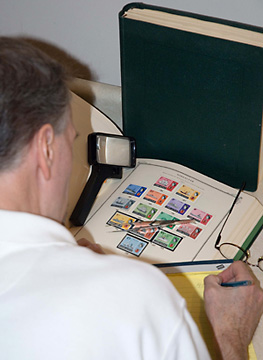 Appraisal fees are always waived if the stamps are sold to us following appraisal.
Call us today at (513) 624-6800.
Do you need an appraisal done for estate purposes? Or maybe for insurance or replacement purposes? Then what you need is a professional evaluation which requires a high level of technical philatelic knowledge and market savvy. We have the experience to provide this service, for which there are fees involved. If you are within range of our office, we suggest bringing your collection in. We can also do in-home and out-of-state appraisals, although the fees are more modest on our premises. If you are outside of our area, we can discuss your collection over the phone and provide guidance, but ultimately you will have to ship the collection to us for a firm evaluation. Travel costs today are not inexpensive, but we try to be fair if travel is necessary.
In all instances, we recognize that every circumstance and collection is unique and we try to be flexible.
Contact us today to make an appointment.